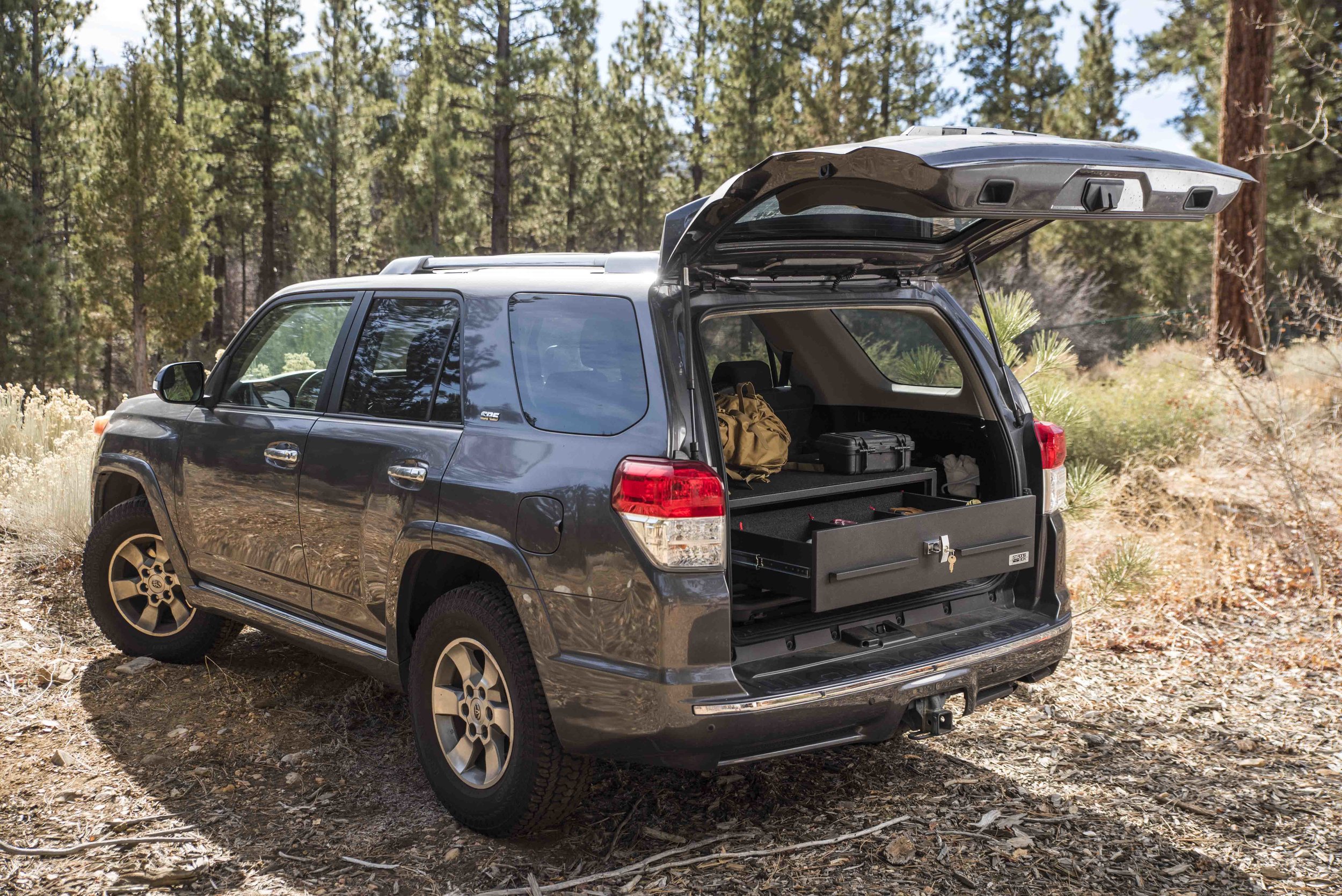 NEW 4Runner Drawer System
We've been building boxes for Law Enforcement and the Federal Government for 10+ years and now we're bringing our years of knowledge and design to the consumer market. Introducing our NEW box for the 5th Gen 4Runner. This box is built to maximizes your storage space with a single drawer system while lowering the weight with an open frame design. Our mission is to give you peace of mind and confidence to know your gear is organized and secured.
STARTING AT $995
Made In America

Outside Frame Dims: 41"W x 34"D x 12.5"H

Top Platform: 55.5"W x 34"D

Drawer Dims: 37"W x 32"D x 9"H

Weight: 115 lbs.
More 4Runner Options
Our boxes are universal and can be used across a variety of different vehicles. Below are our standard high secure boxes we've tested in the 4Runner and know that they will fit nicely. We got drawer systems and top loaders that will work well depending on how much space you're wanting locking storage for. Take a look below and let us know if you have any questions.
SKU: 7126-7611S
Outside Dimensions: 36"W x 22"D x 11"H
Weight: 100 lbs.
Lock Type: Single Medeco High Security with 3-Point Latching System
Cubic Storage: 5 Cubic Feet
SKU: 7126-7611
Outside Dimensions: 40"W x 22"D x 11"H
Weight: 100 lbs.
Lock Type: Single Medeco High Security with 3-Point Latching System
Cubic Storage: 5.6 Cubic Feet
SKU: 7126-7634
Outside Dimensions: 40"W x 34"D x 14"H
Weight: 190 lbs.
Lock Type: Single Medeco High Security with 3-Point Latching System
Cubic Storage: 11 Cubic Feet
SKU: 7126-7621CRS
Outside Dimensions: 40"W x 22"D x 20"H
Weight: 157 lbs.
Lock Type: Single Medeco High Security with 3-Point Latching System
Cubic Storage: 11 Cubic Feet
SKU: 7126-7640
Outside Dimensions: 40"W x 13"D x 6"H
Weight: 100 lbs.
Lock Type: Single Medeco High Security with 3-Point Latching System
Cubic Storage: 1.8 Cubic Feet
SKU: 7634-7611C
Outside Dimensions (Top Box): 40"W x 22"D x 10"H
Outside Dimensions (Bottom Box): 40"W x 34"D x 14"H
Weight: 300 lbs.
Lock Type: Single Medeco High Security with 3-Point Latching System x 2
Cubic Storage (Top Box): 5.6 Cubic Feet
Cubic Storage (Bottom Box): 11 Cubic Feet
SKU: 7634-7640C
Outside Dimensions (Top Box): 40"W x 13"D x 6"H
Outside Dimensions (Bottom Box): 40"W x 34"D x 14"H
Weight: 290 lbs.
Lock Type: Single Medeco High Security with 3-Point Latching System x 2
Cubic Storage (Top Box): 1.8 Cubic Feet
Cubic Storage (Bottom Box): 11 Cubic Feet
SKU: 7611-7611SC
Outside Dimensions (Top Box): 36"W x 22"D x 10"H
Outside Dimensions (Bottom Box): 40"W x 22"D x 10"H
Weight: 195 lbs.
Lock Type: Single Medeco High Security with 3-Point Latching System x 2
Cubic Storage (Top Box): 5 Cubic Feet
Cubic Storage (Bottom Box): 5.6 Cubic Feet
SKU: 7611-7640
Outside Dimensions (Top Box): 40"W x 13"D x 6"H
Outside Dimensions (Bottom Box): 40"W x 22"D x 10"H
Weight: 195 lbs.
Lock Type: Single Medeco High Security with 3-Point Latching System x 2
Cubic Storage (Top Box): 1.8 Cubic Feet
Cubic Storage (Bottom Box): 5.6 Cubic Feet
SKU: 7125-7408
Outside Dimensions: 10"W x 8"D x 5"
Weight: 11 lbs.
Lock Type: Single Medeco High Security
Cubic Storage: 400 Cubic Inches
SKU: 7125-7409
Outside Dimensions: 10"W x 8"D x 5"
Weight: 11 lbs.
Lock Type: Single Medeco High Security
Cubic Storage: 400 Cubic Inches
SKU: 7125-7416
Outside Dimensions: 26.5"W x 16"D x 14"H
Weight: 58 lbs.
Lock Type: Double Medeco High Security
Cubic Storage: 3.4 Cubic Feet
SKU: 7125-7417
Outside Dimensions: 26.5"W x 16"D x 10"H
Weight: 55 lbs.
Lock Type: Double Medeco High Security
Cubic Storage: 2.4 Cubic Feet
SKU: 7125-7437
Outside Dimensions: 37"W x 14"D x 10"H
Weight: 57 lbs.
Lock Type: Double Medeco High Security
Cubic Storage: 2.9 Cubic Feet
SKU: 7125-7413
Outside Dimensions: 41.5"W x 10"D x 8"H
Weight: 46 lbs.
Lock Type: Double Medeco High Security
Cubic Storage: 1.9 Cubic Feet
SKU: 7126-7530
Outside Dimensions: 14"W x 37"D x 10"H
Weight: 45 lbs.
Lock Type: Double Medeco High Security
Cubic Storage: 2.9 Cubic Feet